Why were the towers built in San Gimignano?
Why the medieval citizens of San Gimignano opted to build to dizzying heights is the first question one asks when you see their impressive towers for the first time. The answer is to do with a fascinating history of nobility, wealth and rivalry.
In the 13th century, towns such as San Gimignano were often run by feuding noble families, whose towers would show off their economic power. The building process, involving digging the materials, carting them to the site and building the tower, was neither simple nor cheap. The towers were, and still are, owned by private families.
In San Gimignano today, only 14 towers remain of the 72 which stood in the 14th century. This still makes it the "city of beautiful towers" and guaranteed its UNESCO World Heritage Site recognition.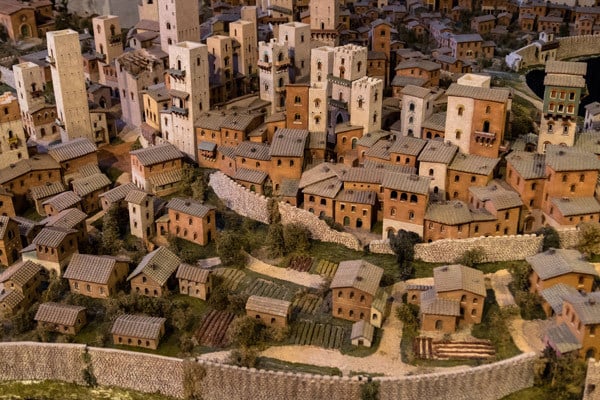 How did they live in the medieval towers?
Each floor of the tower had a different use. The ground floor would consist of a workshop, the first and second floors were the bedrooms and the top floor was the kitchen. The idea was that an accidental fire in the kitchen would allow residents to escape safely. The rooms were 1 x 2 metres, with few openings and 2 metres thick walls. This kept things and people cool in the summer and warm in the winter.
In the Palazzo Comunale or Town Hall, which is open to the public, one appreciates this even on a hot, summer day. The Palazzo containing the ancient Council Hall and a gallery of Tuscan painters, has fascinating frescoes of life in the Middle Ages.
How high are San Gimignano's towers?
Towers grew to a height of 70 metres until the city council decided that no one was to have a tower higher than that of the Palazzo Comunale, or city hall. Families would periodically wage war on their rivals and towers offered shelter and strategic defense. Rivalry was so fierce between families living in the Twin Towers that city officials ruled that the towers be lopped out and they now stand to half their height.
You may note that one of the towers originally had a first floor entrance, rather than one on the ground floor. The residents of the Torre Chigi were so fearful of night time attack, that the ladder allowing access to the tower during the daytime was brought in at night for safety while they slept.
Can we visit the towers in San Gimignano?
Pay a visit to the Torre Grossa, which is 54 metres high (218 steps), a height that took 11 years to achieve. Torre del Podestà in Piazza Duomo also gives you a feel for how citizens must have felt in their medieval skyscrapers and appreciate what good knees they must have had.