Travelling to Pisa
Tuscany's main airport is in Pisa so for many travellers it will be the first place you see when arriving. Together with the pull of the famous leaning tower, Pisa is a city that many want to visit. Set by the Mediterranean sea, Pisa was one of Tuscany medieval sea republics, and has one of Europe's earliest Universities - there is a lot to see here!
The Airport is named in honour of Galileo Galilei, the famous Tuscan scientist. The Airport code is PSA and flights arrive here from all over the UK and Europe - but there are not many flights from the USA. At the moment you can get some flights from JFK direct for Pisa, but generally you will be flying to Milan or Rome then travelling to Tuscany from there.
Pisa can be reached by plane, train and automobile. Pisa's centre, the 'centro storico' is largely pedestrianised. The easiest way to travel there is on foot from a car park, the train station or by bus.
Here is my advice for how to get to Pisa, with travel times from the nearest airports, as well as train, bus and parking information.
Closest Airports to Pisa
Pisa's very own "Galileo Galilei Airport" is the main airport for Tuscany and has international flights.
Other close airports are: Florence, followed by Genoa, Perugia, Bologna and Rome in that order. Pisa airport is the most popular for flights within Europe, while Rome is the most likely arrival airport for US and Canadian visitors.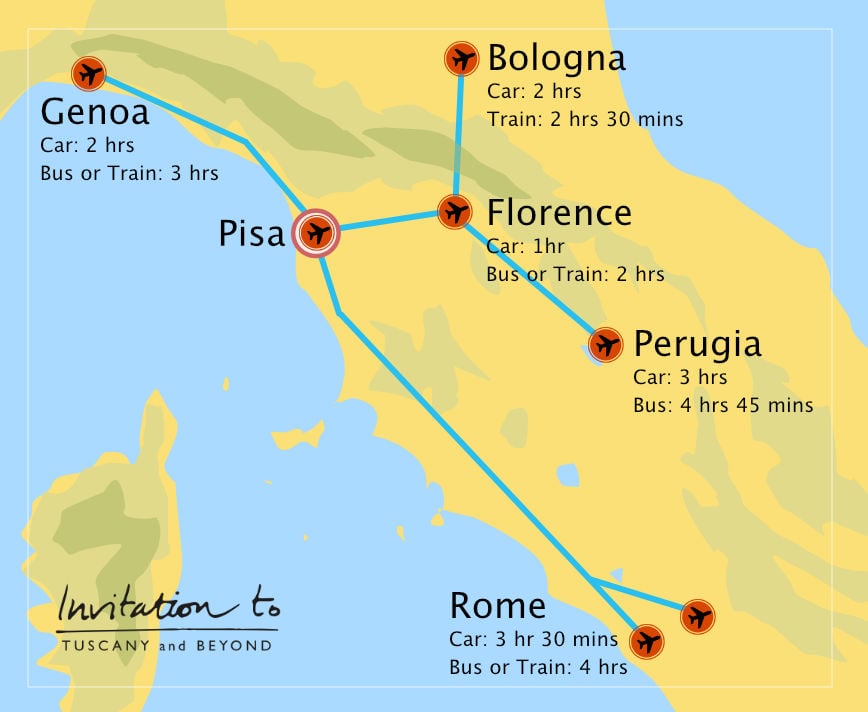 | Airport | Code | Address | Airport Website |
| --- | --- | --- | --- |
| Pisa | PSA | Piazzale D'ascanio, 1, 56121 Pisa | pisa-airport.com |
| Florence | FLR | Via del Termine, 11, 50127 Firenze | aeroporto.firenze.it |
| Genoa | GOA | Via Pionieri e Aviatori d'Italia, 1, 16154 Genova | airport.genova.it |
| Perugia | PEG | Via dell'aeroporto snc, 06134 Perugia | airport.umbria.it |
| Bologna | BLQ | Via del Triumvirato, 84, 40132 Bologna | bologna-airport.it |
| Rome Fiumicino | FCO | Via dell' Aeroporto di Fiumicino, 00054 Fiumicino RM | adr.it/web/aeroporti-di-roma |
| Rome Ciampino | CIA | Via Appia Nuova, 1651, 00040 Roma | adr.it/web/aeroporti-di-roma |
Getting into Pisa from Pisa Airport
There is a shuttle from Pisa Airport into the central Train station, which is close to the city centre. From the arrivals hall turn left and walk down to the end of the airport; you'll find the "Pisa Mover" which will take you into the main station in five minutes.
How to get into Pisa Centre from Pisa Train Station
The train station in Pisa is not too far from the centre so the walk into town is easy and flat. If you're aiming for the Leaning Tower, the walk is around 20 minutes, just under 2 kms.
If you prefer to take a bus, and with little ones it may be necessary, you can take the LAMrossa from the train station.
Have a look here for more information on visiting the leaning tower of Pisa.
How to get to Pisa from Florence
If you are landing in Florence airport, you can get a shuttle-bus into the centre of Florence. You can buy a ticket from the bus driver and it will cost around 6 Euro. It takes around 25 minutes and it drops you off beside the main railway station of Santa Maria Novella.
You can then choose to go to Pisa by bus or by train.
The bus station is close to the train station. It can be tricky to find the bus station at first when you have arrived by shuttle bus from Florence airport. To find it, see the photograph below for directions to the bus station and look for "Bar Deanna" (with excellent cakes) when leaving the train station.
How to get to Pisa by train from Florence
Going to Pisa from Florence by train might be a better option if you are travelling as a family. Firstly, the children can run around a bit. Secondly, the surrounding scenery is beautiful. Lastly, those who suffer from car sickness may prefer it to winding country roads! The trains from Florence usually leave every hour and the trip takes around an hour to Pisa Central station. To find prices, timetables and buy tickets, look at the
Rail costs in Italy are low and a ticket should cost something around 8 Euro.
How to get to Pisa from Siena
The train may be the best way to get from Siena to Pisa. From Siena's central station, you can take a train to Pisa, via Empoli. The trip will take around 1 hour and 40 minutes and deliver you to Central Pisa Rail Station.
How to get to Pisa from Rome
The best option for travel from Rome to Pisa, whether you're travelling from Ciampino or from Fiumicino airports in Rome, is to get to the central Rome train station, then take the train north to Florence and then go on to Pisa from there.
From Fiumicino airport it is a half hour train ride into Rome's central train station, Roma Termini. From Ciampino airport you can take a bus then a train from Roma Termini.
From Roma Termini you can take the fast train to Florence, then go on to Pisa.
Where to park in Pisa
Much as I love the Piazza dei Cavalieri and the exquisite chapel of Santa Maria della Spina, most of those heading for Pisa will want to know where to park for the leaning tower.
Parking near Leaning Tower of Pisa
There are several parking lots close to the famous tower.

avoid the ZTL! It's a restricted driving area with enforcement cameras and they will fine you - here's a rough map
but look out for the restriction signs.
For more detailed information on visiting the leaning tower of Pisa, have a look at this page:
Visiting the leaning tower of Pisa
Driving to Pisa
If you decide you'd like to drive down to Italy from the UK, we have a page of useful advice here: Driving down to Italy from the UK.
Best villa near Pisa
Or you can see all our Villas near Pisa. here.