After a significant landslide at Maurienne on the line between Modane and St-Michel-Valloire the direct train connection between Paris and Milan has been suspended, and probably won't be re-instated until spring 2024. For alternative routes see options that go through Switzerland.
How far is London to Italy by train?
The distance from London to Pisa by train is around 1500 kms - or 950 miles. It is possible to leave London at 5:40 am and be in Pisa by 22:17, in around 17 hours.
If you head for Florence, then a 5:40 am departure from London can get you to Florence Santa Maria Novella by 19:39 - so around 14 hours.
While planes are faster, once you add on the customs times and the driving to the airport, they are not enormously faster - and travelling by train is a great experience.
How to get to Tuscany by train.
Travelling across Europe by train is an increasingly popular choice - and it is not difficult to travel to Tuscany from the UK by train. Leaving from London's St Pancras International for Paris, then taking a TGV to either Turin or Milan. From these two cities you can easily travel onwards into Italy, to Florence, Rome, Venice, Pisa or anywhere in Italy.
Travelling by train takes longer than flying, it's true - but is in many ways a much more pleasant experience; you can enjoy fabulous meals in Paris, stop off at cities along the way (Turin in particular is an often overlooked gem) and even enjoy a good meal on the trains themselves.
We have now travelled this way as a family a few times, including with a one and half year old toddler - it is eminently doable and feels like a return to a civilised tempo. It is also a green option as trains emit far less carbon than flying. For more information on travelling via Plane, Train or automobile, have a look at our page: How to have a Green Holiday - and if you decide you'd prefer to drive - with an efficient car and four passengers it is comparable to the train - have a look at Driving down to Italy.
How do I get from London to Italy by train?
There are a number of routes from London to Tuscany by train: our favourite is based on London to Turin - from Turin you can either continue by train to Pisa or Florence or even hire a car and drive down along the riviera.
Does Eurostar go direct from London to Italy?
There is no direct train from London to Tuscany, but getting from London to Italy by train is fast and easy. There are services leaving from London St Pancras Eurostar and arriving at Firenze Santa Maria Novella via Paris Nord, Paris Gare De Lyon and Torino - Porta Susa. The journey, including transfers, takes approximately 14 hours.
London to Turin then on to Pisa or Florence
Usually the fastest option. Take the Eurostar to Paris, then the High-Speed TGV to Turin. After a night in Turin you can take an Italian High Speed train to Florence or Pisa where you can pick up a hire car if you're going to stay in the countryside. The easiest option logistically is to take a train to Pisa and pick up a hire car at the airport, though getting to Florence is slightly faster - and there are a range of car-hire outlets in nearby Borgognissanti.
Example Timetable
| Station | Time |
| --- | --- |
| London St. Pancras | 08:01 |
| Paris Gare du Nord | 11:20 |
| Transfer to Paris Gare de Lyon | 1h 24 to transfer |
| Paris Gare du Nord | 12:43 |
| Torino Porta Susa | 18:15 |
| Leave from Porta Susa | 19:10 |
| Florence Santa Maria Novella | 22.04 |
A possible timetable might be to leave London St. Pancras at 08:01am, arrive in Paris Gare du Nord by 11:23.
Cross Paris by Metro to the Gare de Lyon - the RER D leaves every 9 minutes and takes approximately 9 minutes, leaving you time for a meal in Paris, perhaps at Le Train Bleue in the Gare de Lyon.
How to buy RER tickets You can buy a RER ticket from ticket windows in any Metro Station or in the train station when you arrive. If you buy in the train station be aware that the Grande Ligne ticket windows can't sell you tickets for the Metro so make sure to don't queue at the wrong place. There are also big ticket machines that you can buy tickets at - and they take credit and debit cards, in case you haven't bought any euro yet.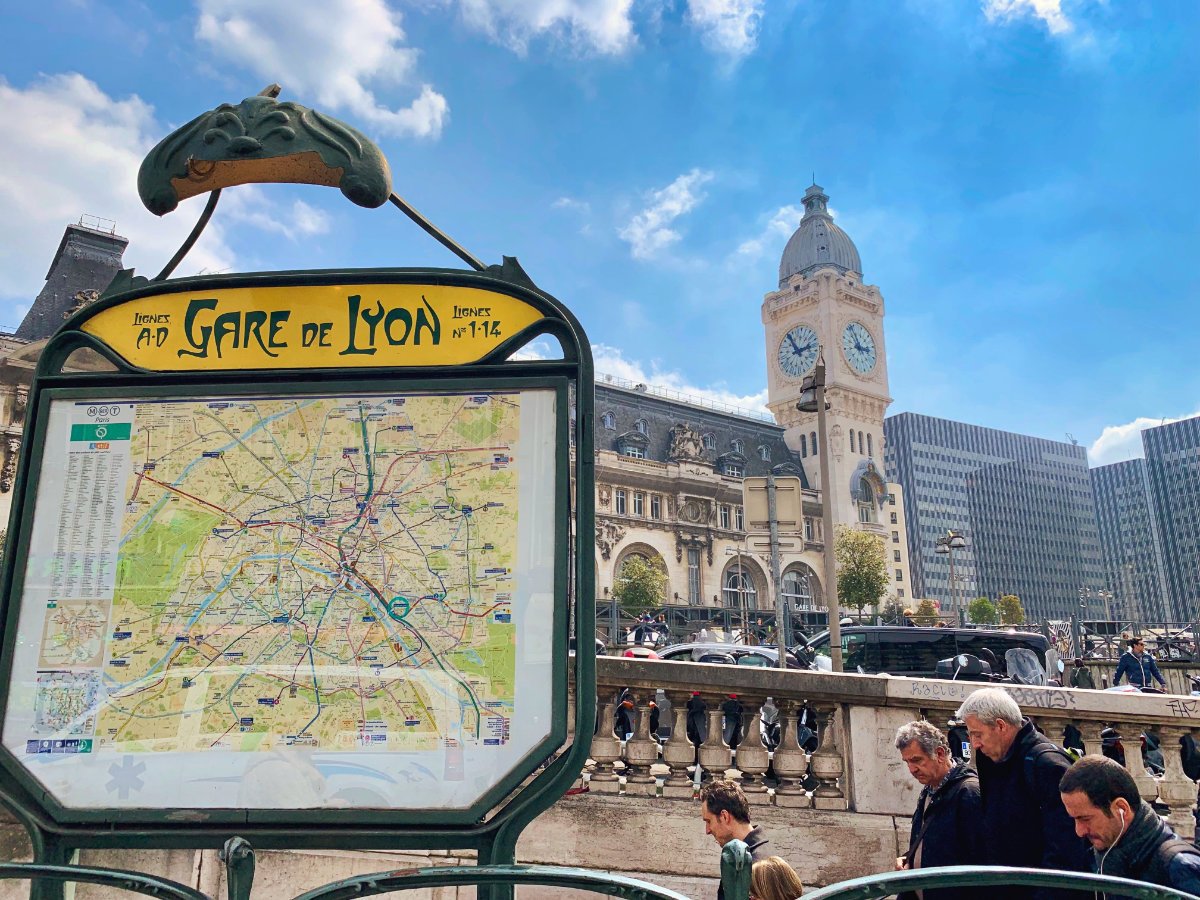 The TGV will leave at 12:47 for Turin, arriving in Turin Porta Susa at 18:20.
You can then get a train to Florence at 19:10, arriving at 22:04.
Alternatively stay a night in Turin - there are plenty of hotels close to either the Porta Nuova station or Porta Susa. When booking tickets make sure you check which station they leave from - Porta Susa and Porta Nuova aren't too far apart but they are far enough to disrupt your plans if unaccounted for.
In the morning you can take a train from Torino Porta Nuova to Pisa Centrale - leaving at 10:40 for example and arriving by 14:47. From Pisa Centrale a little shuttle called the Pisa Mover will take you to Pisa Airport and the full range of car hire companies.
The last time I did this, in February 2023, I stayed in Turin in the Hotel Liberty near Porta Nuova Station, and ate in a lovely little Osteria round the corner called Casa Piemonte on Via Vincenzo Gioberti, 43 - they made me a selection of delicious local antipasti.
In the morning, as I walked to the train station, I looked up one of Torino's large, wide avenues and saw the Alps, tinged with the pink of dawn.
We have also travelled as far as Turin by train and then picked up a hire car, driving down to Tuscany along the Ligurian Riviera - one stay in Sestri Levante was particularly beautiful.
Alternative route via Switzerland
While the direct route between Paris and Milan is blocked, it is best to travel via Switzerland, going via Geneva or via Zurich. Reach Paris from the UK as above, then take a train from Paris to Geneva, for example the 14:18 train from the Gare de Lyon, arriving in Geneva by 17:29. From Geneva you can take a train leaving at 18:39 and be in Milan by 22:40.
Alternatively, go to Zurich from Paris, then cross to Milan from Zurich. The timings are very similar, the main difference is that the Zurich to Milan train goes via the Gotthard and is very scenic.
For more details on these trains and timetables, visit the website of "The man in seat61", he has excellent and exhaustive information on all the alternative options (and on everything train-related generally!).
How much is train from London to Florence?
Prices will vary, but as an indication you can get a return to Paris on the Eurostar for as little as £ 58 return. A TGV return ticket from Paris to Turin can cost as little as £ 68.50 return while the onwards tickets from Turin to Florence can be £ 26.70 return. So a London to Florence journey could cost as little as £ 153.20 return. The best websites to research train routes, tickets and costs are:
Where to buy train tickets for London to Italy
Seat61.com - the expert on train travel all over the world but particularly across Europe. Our first port of call to find out how to get to places by train - and he has very useful route diagrams and lots of other notes.
RailEurope Used to be Loco2 and a very good place to buy tickets. If you ask for the whole route it will sometimes give you combinations that don't work for you - like night trains in my case. So I will often split the sections up in order to get a clearer idea of what might be possible.
TheTrainline has now branched out into European ticketing and seems very good at first glance - I haven't tested it personally yet but it's worth looking at!
I also combine it with
Eurostar for the Paris to London tickets and with
Trenitalia for Italian train tickets.
Where can I stay in Tuscany without a car?
We normally recommend hiring a car to best explore Tuscany - and most of our villas are in the countryside - but it is possible to visit without a car. Here are our best villas to stay in without a car - it includes a house in Provence, which is a very easy place to get to via train - in the summer there are direct Eurostar TGVs from London to Avignon.
This is Villa Colombaia, a beautiful villa for 14 that is a short walk away from the train station in Rignano sull'Arno, just south of Florence. We have had guests here that travelled here by train and got around by public transport once there - a green holiday.