The Puccini Festival is a magnificent musical event set in an open-air theatre by Torre del Lago, near the home of the famous composer.
This annual festival of opera and concerts, dedicated to Giacomo Puccini, is held in a specially constructed arena by the Lake of Massaciuccoli, close to Viareggio, Pisa and Lucca. It normally runs from early July to mid August.
The setting is glorious. All the seats face the lake so the view beyond the stage is of an expanse of water, framed by the hills of Massaciuccoli.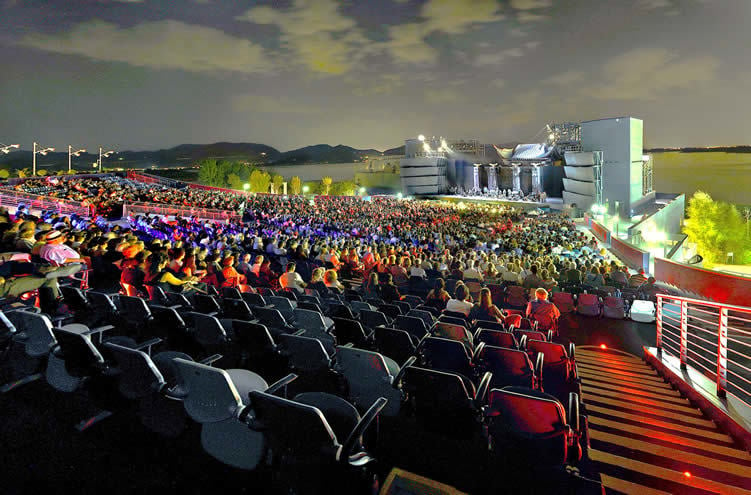 For 2022, the Festival will celebrate with Europe the Year of Youth and Pier Paolo Pasolini, the Italian director, writer and poet. There will be four Puccini operas, two contemporary operas, four new commissions and two symphonic concerts.
The Puccini Festival Program 2022
Opera
Puccini Operas:
MADAMA BUTTERFLY - 15 and 30 July, 6 August 2022
TOSCA - 16 and 29 July, 13 and 26 August 2022
TURANDOT - 23 July, 5,12 and 20 August 2022
LA RONDINE - 19 and 27 August 2022
Other composers:
JAKOB LENZ, Wolfgang Rihm - 20 July 2022
SATYRICON, Bruno Maderna - 25 August 2022
Concerts
LA MEGLIO GIOVENTÙ (THE BEST YOUTH), a tribute to Pier Paolo Pasolini and a premiere of unpublished music. Composers Marcello Filotei, Salvatore Frega, Andrea Manzoli and Roberta Vacca - 2 & 3 August 2022
PUCCINI THE MUSIC THE WORLD - Symphonic Concert - 28 July, 24 August 2022