As Tuscany has fantastic wine producing credentials, many visitors to Tuscany are drawn to its impressive vineyards and wineries. It is not always easy to know which wineries are best to visit, so we thought it would be useful to write this mini-guide to our recommended wineries, including a few key facts about Tuscan wine to help you on your way.
How much wine is produced in Tuscany?
Tuscany is famous for its wine and Tuscan vineyards produce a significant proportion of Italy's annual wine output of 40.8 million hectolitres.
That figure puts Italy top of the list of the biggest wine producing countries in the world and it's for a good reason that the country produces so much.
Why is wine from Tuscany exceptional?
The climate and soil is perfectly suited to producing grapes and nowhere is that truer than in the valleys of Tuscany, which is home to dozens of DOC regions.
What does DOC mean on an Italian wine bottle?
DOC stands for 'Denominazione di origine controllata', which means "controlled designation of origin". Only wine from these areas can carry certain names. A prime example is Chianti. It can only be printed on the label of wine produced in the area surrounding the Tuscan city.
Which vintage is best for Tuscan wine?
As well as being home to much of the world's best loved wine, Tuscany is also a region with a great reputation for consistency. While some wine lovers will argue over whether 1997, 1999 or 2006 were the greatest vintage since 1985, the region has in fact enjoyed a spectacular run of good years. 1995, 1996, 1998, 2000, 2001 and 2007 are also seen as excellent vintages. The 2011 and 2012 vintages are expected to prove to be well worth keeping.
Which are the best wineries to visit in Tuscany?
1. Antinori Chianti Classico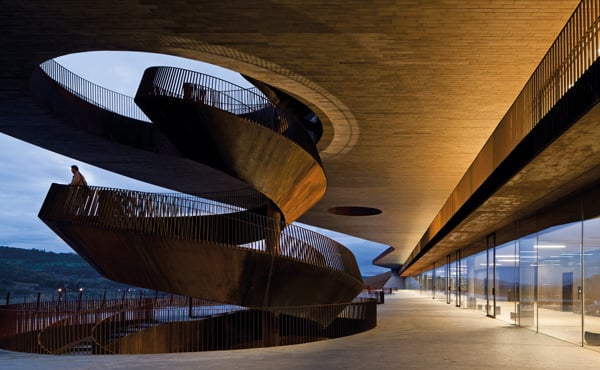 This vineyard is less than 20km from the centre of Florence, just off the main highway to Siena. Despite this convenient location, it's often missed as it's hidden among olive groves and geometrically aligned vineyards. Furthermore, much of the winery lies underground.
It's been run by the Antinori family since 1385, but despite the long history you won't find a dusty or old fashioned winery. Thanks to a modern building which was opened in 2013, the winery is extremely active and fantastically well-equipped. This expensive new winery was made possible because the vineyard is prolific and boasts two of Italy's top wines - Solaia and Tignanello.
Designed by one of Italy's leading architects, Marco Casamonti, the winery has more than 600 years of winemaking history displayed in its museum as well as a book shop, art collection, wine bar and tasting rooms. These attractions are housed in a mainly subterranean terracotta structure which helps to generate perfect climatic conditions needed for the thousands of barrels of wine stored within it.
There is also a restaurant on site, so you can enjoy a visit between 11am and 7pm (weekdays, 11am to 3pm on Sundays) then sample a delicious meal on the roof of the building. Find out more on the Antinori nel Chianti Classico website.
2. Castello di Ama
Castello di Ama's winery was opened more than 30 years ago by Lorenza Sebasti and Marco Pallanti at a time when the castle hamlet, its vineyards and olive groves were in a state of abandon. Three decades on, the 12th-century castle is beautifully renovated and has become home to one of the most important wine-related contemporary art collections in Italy. It also produces fantastic fine wines, such as the Haiku Chianti Classico.
Tourists can enjoy the art of world-renowned artists, with the pieces on site including Daniel Buren's mirror wall (which reflects the vineyards) and Anish Kapoor's 'Aima', a pulsing red light which shines brightly from the tiny church of San Venanzio.
The castle estate doesn't just produce wine. Like many other vineyards it produces its own extra virgin olive oil. With a state-of-the-art olive press, it can bottle one of the Tuscan countryside's best oils.
Visits to Castello di Ama are by appointment only and can be arranged via the winery website.
3. Castello di Nipozzano
Castello di Nipozzano was built on the outskirts of Florence to protect the city more than 1,000 years ago. It has enjoyed a colourful history. Over the centuries great artists like Donatello and Michelozzo Michelozzi regularly visited to buy wine from the estate and it was then destroyed in 1944 during World War II.
The current castle was partially rebuilt but parts of the original building can still be seen, including the original cellar.
Besides exploring a historic castle, a visit to Nipozzano also offers the chance to see a true working farm with more than 600ha of vineyards and olive groves. Chianina and Angus cows can also be seen roaming free in the fields.
The real reason to visit though is the wine. You will be guided through the monumental cellars where the Chianti Rùfina is aged and given the chance to taste this fantastic wine in a beautifully and tastefully restored old kitchen. On top of that, you can enjoy fabulous views of perfectly maintained vineyards across the valley and, naturally, you can also buy wines from the vineyard.
Wine is available to buy from as far back as 1864 but the years priced at the highest premium are Marchese Lamberto Frescobaldi' favourites: 1960, 1974 and 1981. To find out more about Castello di Nipozzano visit the winery website.
4. Capezzana
This vineyard is also just a few miles from Florence, on the road towards Prato. The estate has been a well-known producer of wine and extra-virgin olive oil for more than 1,200 years, since 804. It's been in the hands of the current owners, the Contini Bonaccossi family, since the 1920s.
Thanks to the influence of the youngest members of the family (Oscar, Ettore, Giulia and Duccio – who are all 21-years-old) the winery has a fantastic wine bar called La Vinsantaia which is open from April to October. Guests can enjoy informal wine tastings and meals in this bar, but that's not all that's on site.
The huge 650ha estate has been diversified in recent years and boasts forest, organic vineyards, olive groves, and even a cookery school.
In summer the wine bar is often packed as its terrace offers a fabulous view of Florence's Duomo, which is a fantastic site to take in over the estate's famous dessert wine, vin santo.
The estate does well out of selling its vintages too, with vintages of the great Villa di Capezzana dating back to the 1930s in stock. Vintages to look out for include the 1968 or 1988. Find out more about the estate on their website.
5. Salcheto
Salcheto is well worth a visit because of its unique selling point – it became Europe's first self-sufficient winery in 2011.
That year's harvest was produced exclusively using energy from renewable sources and recycled winery materials. The estate makes use of ancient water reclamation practices, the modern technology of solar panels and its wine tanks operate off excess CO2 produced during fermentation.
The vineyard is also certified as organic and became the first winery in Europe to be given permission to use the green carbon footprint sticker on its bottles, while also managing to continue producing top-notch wines. Although Salcheto is a young vineyard which had its inaugural vintage in 1990 and its new winery was only completed in 2011, it has fast carved out a reputation for itself as one of the region's strongest.
On the tour, visitors are offered an insight into the incredible technology in place, They meet Salcheto's president, Michele Manelli, and learn how Salcheto is different to other wineries.
On top of all this, the estate also overlooks the stunning town of Montepulciano. Many agree that it is among the most beautiful wineries in Tuscany.
If you want to head along to the winery, you can enjoy a tasting and discover for yourself how high-tech and green principles can make a perfect match.