Top 6 rivers and waterfalls for wild swimming in Tuscany
Tuscany has a number of great rivers to swim in, with waterfalls, deep pools and even some that are warmed by thermal springs. Before swimming pools become so ubiquitous we all used to swim in the rivers – and there are some beautiful natural pools dotted along Tuscany's rivers. Exploring the countryside to find these river swimming spots is a great way to see a Tuscany most will miss!
1.River Merse, near Brenna, Siena
South-west of Siena the river Merse winds through a valley dark with evergreen oaks and dotted with old mills and castles. Head for the tiny hamlet of Brenna and park by a weir.
From here you can walk upriver until you find one of the wide and deep pools to swim in. If it's busy - and it can get busy - then you can drive further up the bumpy dirt track until you see parking spots on the right. From here just go exploring into the woods and you'll find plenty more river swimming pools.
Castle that only God knows
If you'd like to go for a walk from Brenna, there is a castle hidden in these deep folded valleys, known as "Castiglion che Dio sol sa" or The castle that only God knows. Below the castle there is a tributary to the Merse lined with ruins of old mills - in the early 11th and 12th centuries these valleys powered the Sienese industrial revolution.
At the end of a day swimming and hiking you'll be delighted to know that there is a Pizzeria Restaurant in Brenna, The Vecchio Tinaio. Run by Federica and Mauro it's a great place to end the day.
If you're staying in Montestigliano you can practically walk to Brenna and the river Merse, and the same is true of guests in Pipistrelli. But this great river swimming spot is within easy reach of any of our villas near Siena.
2.Canaloni del Farma, near Monticiano, Siena
A little further south and west from Siena there is another beautiful river swimming spot on the river Farma. The water has carved a passage through the limestone rock, with small waterfalls and deep pools, known locally as the Canaloni del Farma.
The approach is along a path for about 2kms so make sure you take drinking water and walking shoes. Head for Monticiano and drive on toward Torniella. Just before the bridge over the Farma there is a clearing where you can park your car. From here it is a 2km walk to the pools.
If you're staying in any of the historic apartments in the Pieve di Caminino the drive to the Canaloni is under 30 minutes, making it an easy day out.
3. Pozzo Lungo on the Farma, Iesa, Siena
Further along the same river Farma, south of tiny hamlet of Solaia, there is a wild swimming pool formed at a bend in the river. To get there head for Solaia but park before you get there, at a junction just before a bridge - roughly here. From here head off on foot - you will need decent shoes and to take some drinking water, first SSW then turning SE until you find the river. There are plenty of bathing spots so just explore, but this marks the main one: Pozzo Lungo on the Farma.
Further along the Farma there are also some hot springs, and you can bathe in the river and in the thermal waters - but it's often crowded and there have been thefts, so I wouldn't recommend it. They're called Bagni di Petriolo.
Look at our villas near Siena or villas in the Maremma to stay near here.
4. "Maiden's Rock" on the River Cecina, near Volterra
We used to swim here a lot when I was a child, it's a beautiful pool of water next to a large rock along the river Cecina, where it runs through the park of Berignone. Legend has it that the name Masso delle Fanciulle (Rock of the Maidens) comes from a story of three young girls who, to escape the advances of a gentleman from the neighbouring village, threw themselves into the water from this rock and were drowned.
Today, to reach the pool, you can drive to this parking spot, close to Pomarance and west of Siena. From here it is a short walk to the pool and its famous rock.
This would be a good place to explore for guests staying in Dan's House, Agriturismo Elvira or anywhere in the Valdelsa.
5. River Pavone near Montecastelli Pisano
Close to the river Cecina above, the river Pavone winds its way through some very steep cliffs before joining the Cecina. While there is no specific pool, as the bed of the river moves around every winter, if you park near the bridge below Montecastelli Pisano you can then walk back under the bridge and turn left (north). Walk until you find somewhere worth swimming - there usually are pools, though beware going late in the season after a hot summer, it might be quite dry. The best place is a pool called "Pozza Verde" with an overhanging rock but I can't quite pinpoint it on google maps so you will have to explore.
If you drive all the way over here, there are several other things worth visiting:
An underground etruscan tomb with a central pillar and radial chambers each with a bed and pillow carved out of rock.
A fortress built on the highest point for miles - an enormously strategic stronghold for controlling the local territory. While there has been a fortress here for over a thousand years, the current structure was designed by Giuliano da Sangallo. From the fortress you can look down into the valley of the Pavone river and see an old mine - originally Roman and later active until the mid nineteenth century. I have explored the mine and would not recommend going in - it has deep pits, tight squeezes and, as I remember it, ankle-deep pungent bat guano.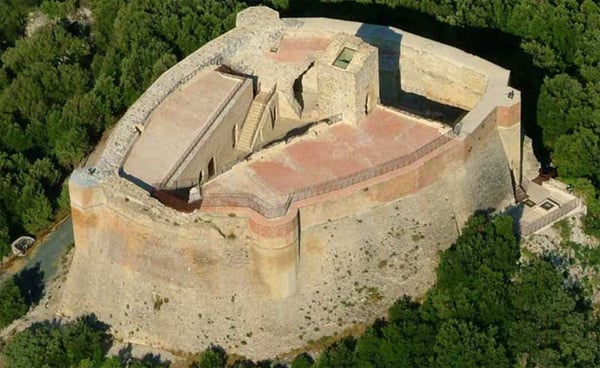 A beautiful medieval church of which nothing remains but the facade and the floor plan. Evocative.
This is a good place to visit if you're staying in La Ragnana in Radicondoli - the drive is just under 30 minutes.
6. Diborrato waterfall on the Elsa River
Colle val d'Elsa made its fortunes as an early glass-producing town, powered by the river Elsa that was forced into narrow mill-races called "Gore". Today the town has made stretches of the river into a beautiful natural park, and walking along the path you can visit the medieval and renaissance engineering works that managed the water.
Park here: SentierElsa Parking Spot
Pick a spot and dive in, this is a popular local swimming spot.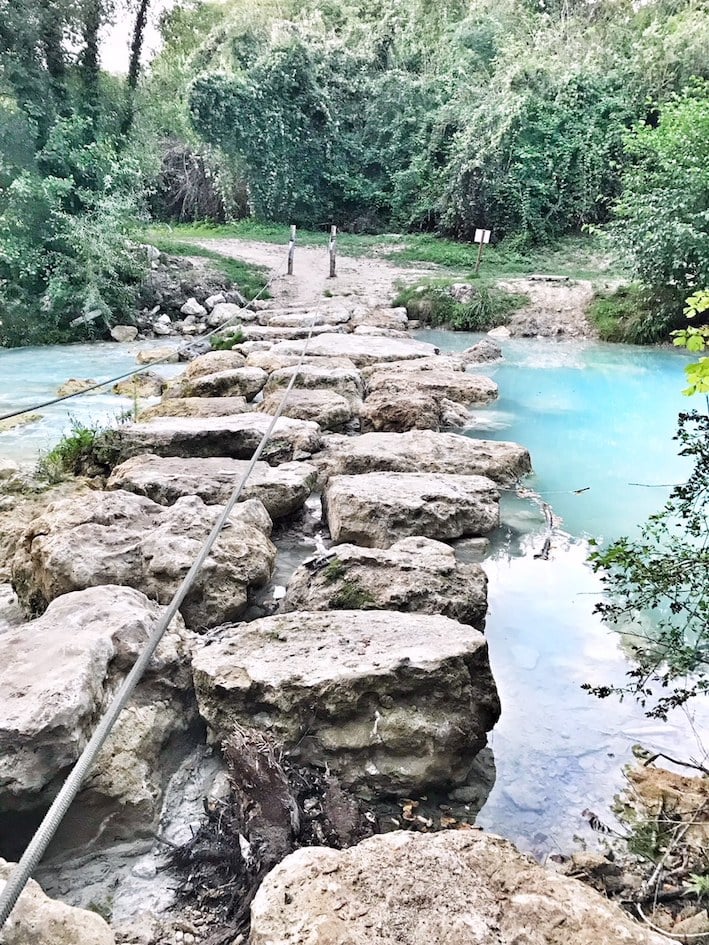 Read Marina's notes here: Sweet Lavanda