What is Calcio Storico?
Calcio Storico or 'Historic Football' is an ancient ball game which is still played to this day in Florence. It's a combination of rugby, wrestling and football that started in 16th century Florence and is still played today in historical costume. The four teams of the historical neighborhoods of the city play against each other, first in two semi-finals and then a final match to determine the winner.
When is Calcio Storico played?
There are three matches played each June, between four teams representing four areas of the city. The final is played on the 24th of June, the day of San Giovanni, patron saint of Florence.
Where, when and how is Calcio Storico played?
Calcio Storico is played in Piazza Santa Croce in Florence. Three matches a year are played, in the last third of June, between four teams representing areas of the city:
Santa Croce - Azzurri or Blues
Santa Maria Novella - Rossi or Reds
Santo Spirito - Bianchi or Whites
San Giovanni - Verdi or Greens
The four teams compete in colourful medieval costumes. The aim of the game is to take the ball and put it in the net which runs the entire width of the sand pitch. The winning team receives a pile of steaks equivalent to the weight of a white calf.
How do you get tickets to Calcio Storico?
Tickets are generally sold in late May or early June, but only a few days ahead of the matches. The popularity of the games meant online ticket sales soared, and this made tickets hard to get, especially for locals.
As this is a very local event, and not a tourist spectacle, since 2018 tickets are only sold in the local box office, not online. It gives locals a chance to get tickets first. This is a game by locals and for locals, not for tourists, like the Palio in Siena.
So as we cannot pre-book tickets to the matches, you will have to try to get them close to the dates. Please don't despair though. If unsuccessful, you can always view it on live streaming, and the atmosphere in the city still makes it worth a trip.
Tickets start being sold in early June at the headquarters of BoxOffice Toscana on via delle Vecchie Carceri, 1.
Cost of tickets in 2022 was:
80€ Tribuna Onore Centrale
60€ Tribuna Onore Laterale
40€ Tribuna C
29€ Curve colori.
For the final game, tickets are generally sold from mid June, the box-office will be open from 9am to hand out queue numbers. Tickets need to be paid by electronic cards (debit or credit cards, no Amex accepted).
What are the rules of Calcio Storico?
Calcio Storico has been described as a game 'where football is good and grimy'. It is a game without rules in stripped down costume. It is a combination of football,rugby and wrestling, where referees have never been allowed.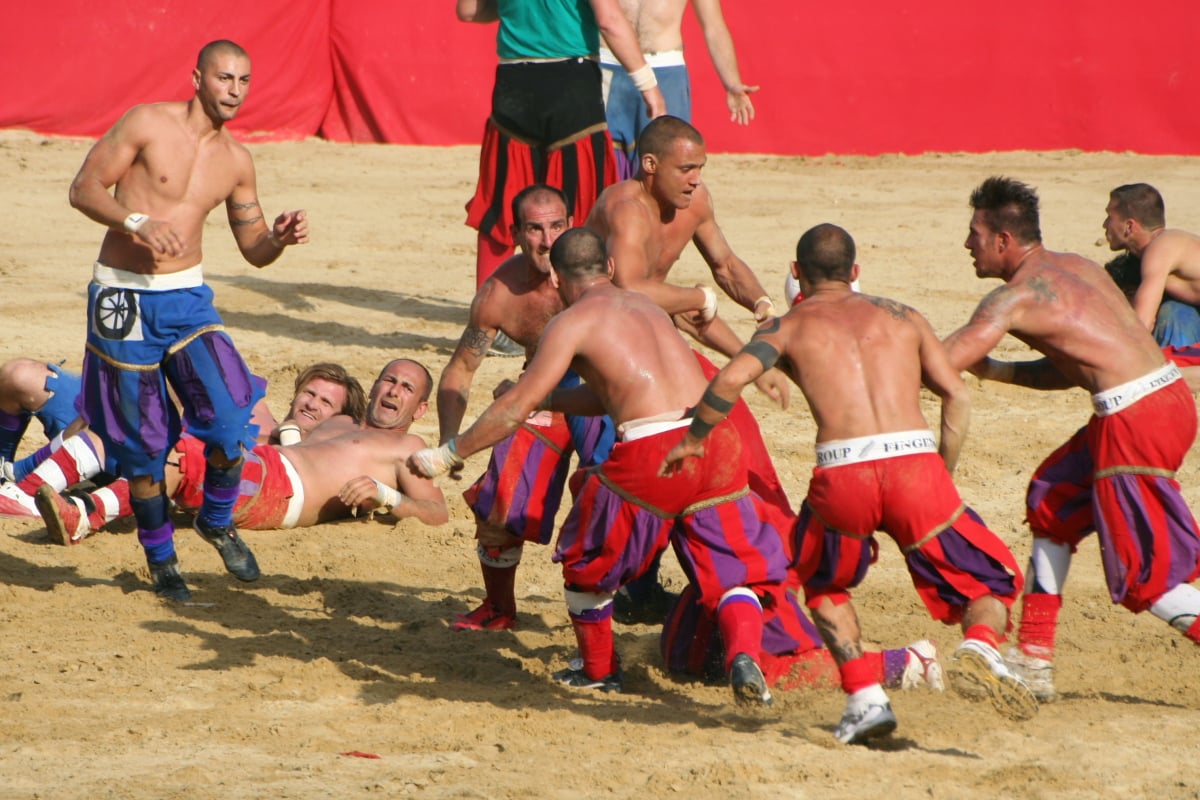 What is the history of Calcio Storico?
"Too small to be a real war and too cruel to be a game"

This comment supposedly made by Henry III of France in 1574 reveals the violence and energy in the early forms of "Calcio Fiorentino", played with enthusiasm by Florentine aristocrats in the 16th century. The game gained popularity in the early renaissance and has been mooted to be a descendent of Harpastum, a Roman ball game, played with a ball smaller than a football but with equal vigour. Harpastum itself is thought to have descended from a Greek ball game, phaininda, also a vigorous and dangerous game.

It is certainly reasonable to this a just another aspect of the enthusiasm for all things Roman and classical, a rediscovery of the classical texts and culture that drove the Renaissance, as ancient concepts and ideas were rediscovered and discussed, ancient ways of doing things revived and rediscovered. While Brunelleschi pored over ancient texts and ruins to discover how the Romans could cast such an amazing dome as the Pantheon, and other academics went for the philosophical enquiries of Plato and Socrates, others revived ancient ball games. It's all culture.

After fading away in the 18th century, the Calcio Storico was revived in the 1930s - another period of enthusiasm over Roman history.

I am always reminded of Goscinny's wonderful cartoons of rugby, with Asterix and Obelix looking on in wonder at the mindless violence of the Britons they've come to visit, and the bonhomie that seemed to accompany it.

Where to stay in Florence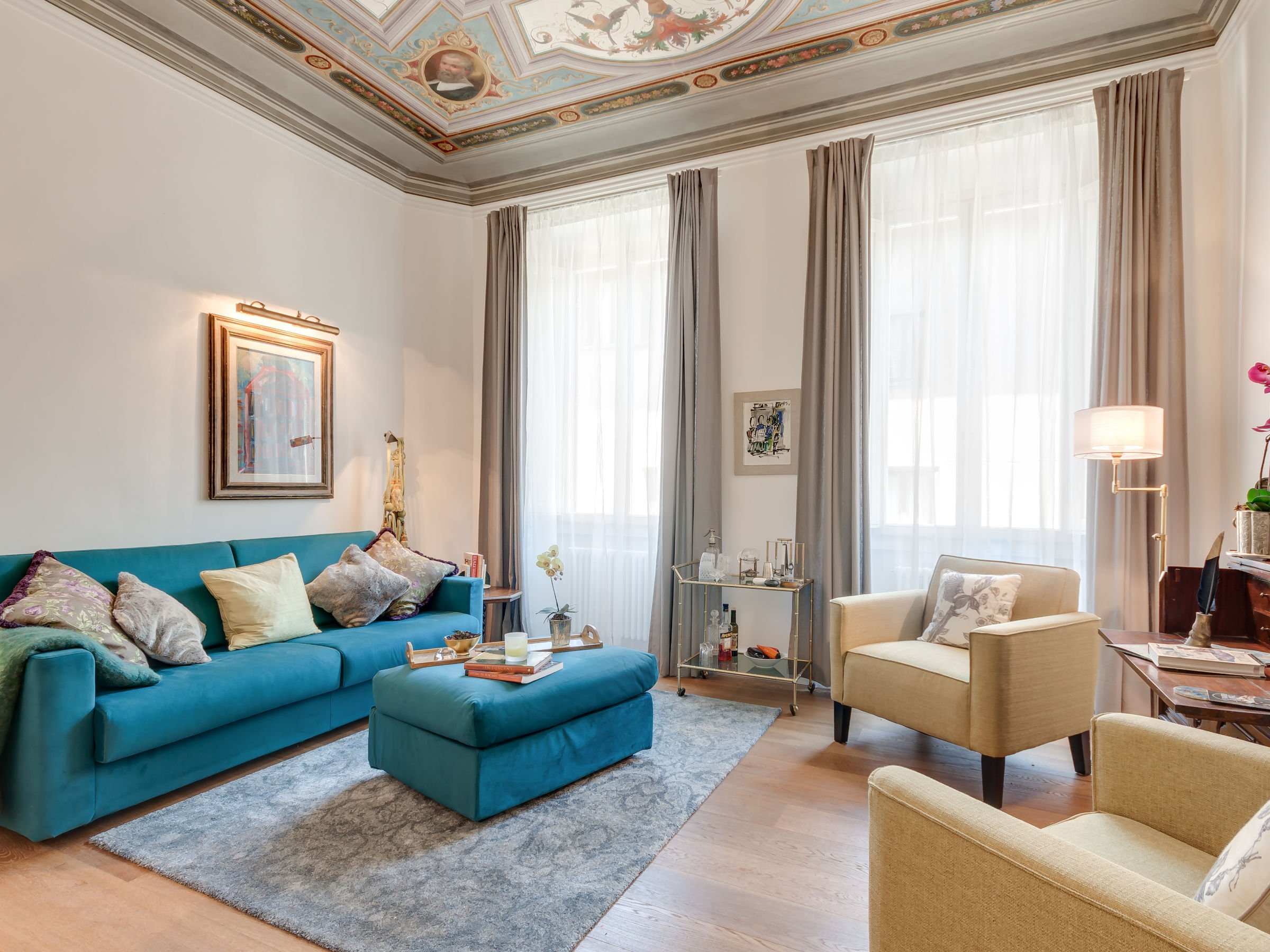 Via della Colonna is an ideal base if you want to experience Florence during the period of Calcio Storico, a beautiful spacious apartment for two just a ten minute walk from Piazza Santa Croce where the games are played.
More information and photos of Calcio Storico