Tuscany Wedding Venues
Getting married in Italy is romantic.
Getting married in a beautiful Villa in Tuscany is doubly so.
You need the right venue, a great organiser, beds for guests, excellent food and wine and a spot of evening dancing. With that in mind these are our top 5 villas for weddings in Tuscany for 2023:
PS - if you'd like advice on which documents you might need to get married in Italy, read this: How to get married in Tuscany
Montestigliano is a beautiful old farming estate close to Siena, excellent for weddings, converted into a series of villas and farmhouse apartments across the whole hamlet, and a central square for the always necessary dining, dancing and carousing! A short distance away is the luxury villa Pipistrelli, often taken with the whole hamlet as the accommodation for the bride and her family.
Villa Goga is a beautiful and ancient villa with its own chapel set just south of Siena. Approached by an impressive, cypress-lined avenue, the villa itself dates from the 16th. Century while the estate dates back more than 1,000 years.
The villa has luminous rooms with beautiful frescoes and wall paintings. There are formal gardens, with tall shady trees on one side, while at the front is a wide lawn with long box and laurel hedges on either side. Beyond these lawns, the large swimming pool has beautiful views through olive groves and gardens across to Siena and the rolling cornfields of the Crete.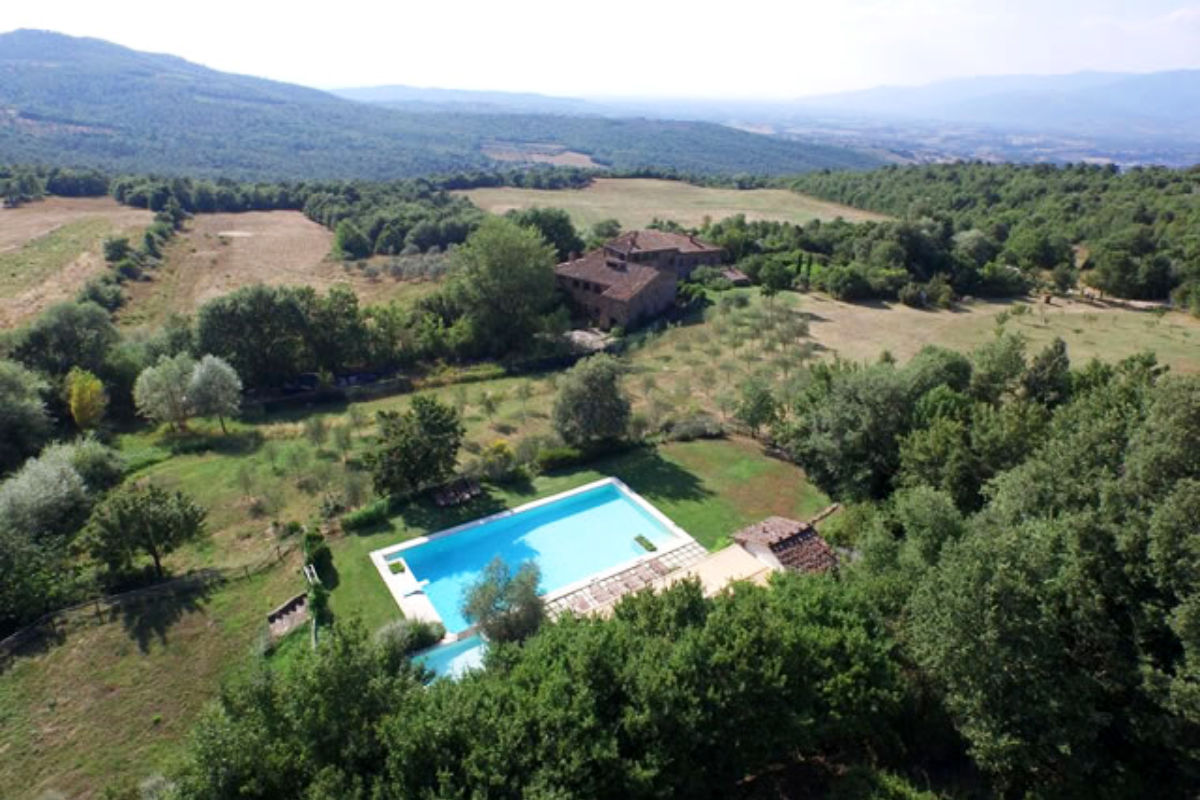 This beautiful villa was once a convent and has been painstakingly restored by its Canadian owner, who lived in the house to follow the work for over 5 years. Today it's an elegant home for 18 and the perfect venue for a private wedding. With excellent catering and beautiful outdoor spots for photographs (and carousing) Eremo is a very special place.
South of Florence, on the slopes of the apennines, a skilled and famous Italian architect has transformed a collection of historic farm buildings into beautiful and elegant dwellings. Gathered around an enormous swimming pool reminiscent of a roman baths, each house has air-conditioning, en-suite bedrooms and spacious accommodation. The main building has a large conference hall, a private restaurant, a snooker room, a library and a wine-tasting cellar, making it the perfect venue for weddings, conferences and large gatherings.
A renaissance villa, a michelin starred chef, formal Rose gardens and a private chapel - Villa Rosetta is a perfect choice for a Tuscan wedding. The villa has been in the same family for over 400 years and is full of beautiful historic pieces. The rooms are fabulous, from the elegant ballroom that still has the original wax cylinder music player to the bedrooms in the medieval tower, with walls over 9 feet thick. There are beds for 20 in the villa itself and plenty more in the villas on the surrounding estate. Between Florence and Bologna. Price and availability on request.
So there we are - for more Wedding Villas have a look at our main selection here: Wedding Villas - look here for advice on how to get married in Italy and, if you're looking for honeymoon spots this page is a good place to start: Best Romantic honeymoon Villas.
And lastly, in case anybody is wondering, Italy and Tuscany are very LGBTQ+ friendly - we've had lots of ceremonies and events for same-sex couples in the villas above and others! : )