Tuscany is the queen of the Italian regions, with 7 UNESCO world heritage sites, amazing art, landscape, food and wine. The perfect place for a luxury villa holiday, a chance to soak up the beauty of the region with the help of chefs, winetasting tours, cookery courses and city tours.
Here is our selection of Five Best Luxury Villas in Tuscany. They all have Private Pools, and we've also selected them on the basis of service - a luxury villa needs to have a high level of service, with an on-site concierge as well as our own concierge service.
These are all houses that we've visited - many times in most cases - so feel free to ask us any questions about the houses themselves or about the area!
1. Pipistrelli
Only a few kilometres south of Siena, Pipistrelli is a stunning conversion of a large Tuscan farmhouse. A New York designer turned this ancient secular building into a stylish luxury villa for 14, with an infinity swimming pool that looks out over the valley of the Merse river. The setting is utterly Tuscan and fabulously private - the drive up to the house crosses olive groves on a track lined with cypresses before diving into a dark holm oak forest that protects your privacy and makes you feel snug and safe from the world. Then the view from the pool opens out onto a valley with no buildings, just a river snaking through.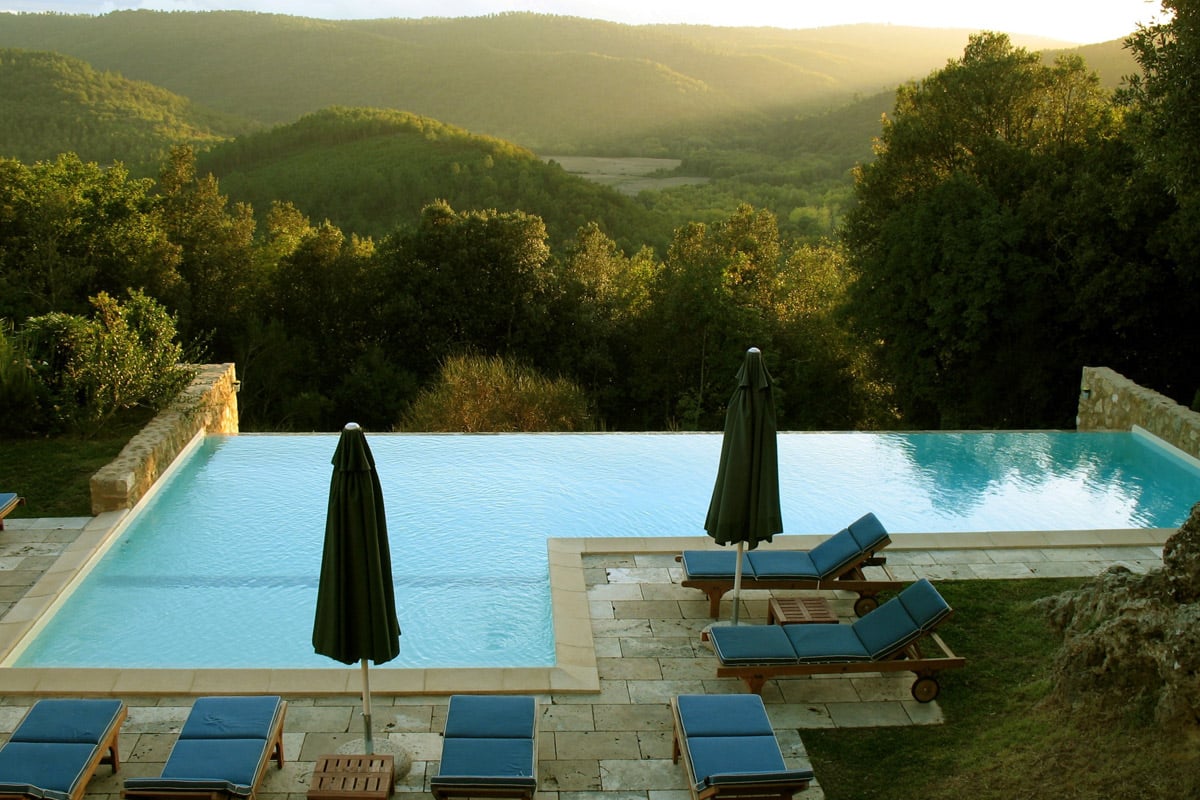 The house is part of the estate of Montestigliano and has the same fabulous concierge who can organise meals, tours, babysitting, and anything else you might need.
This is a popular villa - book early!
2. Valdera
Tuscany is known for its amazing landscape and fabulous views. This luxury villa has some of the best, looking out over the Valley of the river Era towards the ancient Etruscan hill-top city of Volterra. I love the Villa Valdera because the owner really takes care over everything she does - the houses has large bedrooms, everyone of them ensuite, the kitchen is a chef's delight and there are lots of spots to sit and relax around the house. Visitors also love it because the tiny hamlet nextdoor has a restaurant that's just an easy stroll away. There's a great pleasure in leaving the car on the driveway and just walking out for dinner in the evening.
3. Cipressi
This is a new arrival for us and is stunning. Very close to Siena, on the road that heads out west, between Chianti and the Valdorcia. The house comes with everything that you'd want in a luxury villa, yet has still been converted with a light touch, leaving enough of the old farmhouse to give you an authentic Tuscan experience.
As with all these villas, services are not a problem - chefs, cookery courses, massages, city tours can all be easily arranged.
4. Scaparzi
A cypress lined avenue leads to a villa surrounded by its own vineyards, with views of hill towns and rolling hills. The archetypal Tuscan experience, with an infinity pool to relax in and take in the view.
This is a house designed for outdoor living - there are plenty of outdoor dining areas, an excellent barbecue and even the indoor dining room has enormous sliding doors to open it to the sunshine.
5. Eremo
This large ex-convent in the hills near Arezzo, south of Florence, has been transformed into a beautiful luxury villa. It sleeps 18, so is the largest villa in this list, and is perfect for special family reunions and for weddings. The pool is a favourite of mine, with a large covered pergola by it, and a little extension to the pool for the smaller children.
To see more luxury villas, have a look at our entire collection here: Luxury Villas in Italy